Hey guys! Sorry for the lack of updates lately, uni started last week and I've been lazying off these days. Here's the next installment of my gastronomic adventures in France!
One of the highlights of my trip was claiming some restaurants as "ours" by making a habit of always taking a certain meal at a certain establishment.
Coquelicot
was one such place. Sleeping in late and then enjoying a satisfying brunch there was always a sure-fire way to begin a beautiful day in Paris!
Coquelicot
Address: 24 rue des Abbesses (Metro Abbesses, 18e arr. Paris)
Phone: 01 46 06 18 77
Website:
http://www.coquelicot-montmartre.com/
Style: bakery, breakfast&brunch, French
traiteur
(deli)
Hours: Tue-Sun 7:30 AM to 8PM
(Breakfast starts at 8AM; Brunch is served the whole day on weekends)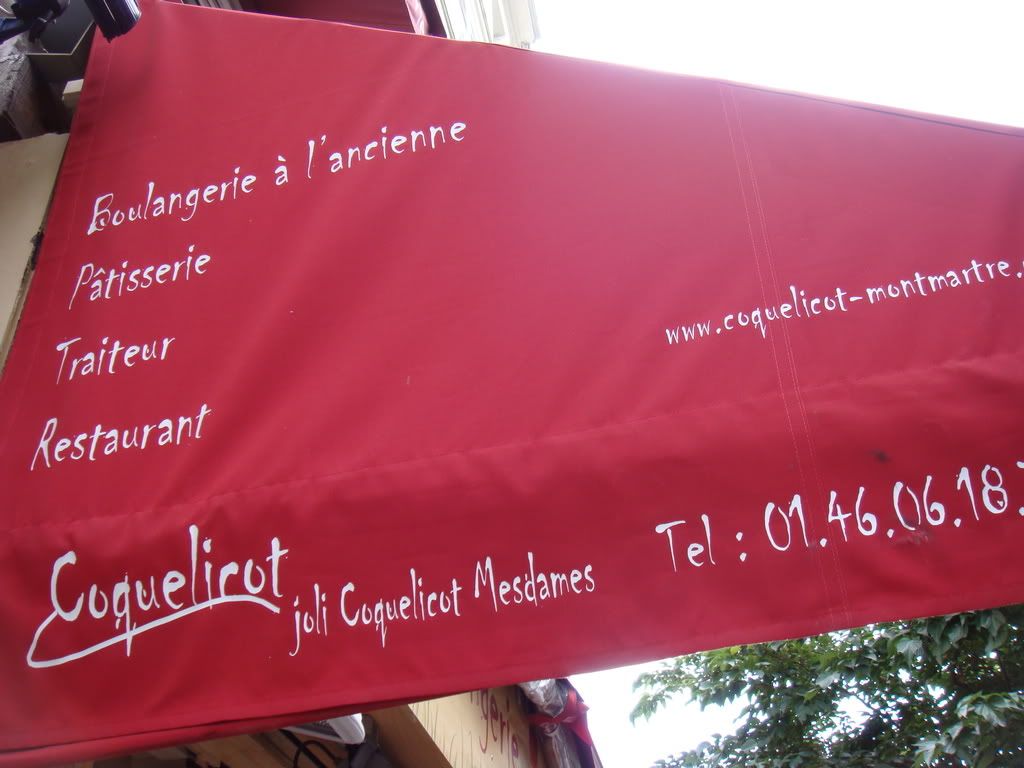 (Coquelicot means "poppy" in French. Did you know that the pretty red flower only grows in non-chemically treated fields?)
Coquelicot is first and foremost a bakery offering both breads (
boulangerie
) and pastries (
pâtisserie
) made in-store. Located in Montmartre on the picturesque rue des Abbesses, it follows the age-old French tradition of freshly baked goodness and wholesome ingredients. The popular establishment also does breakfasts, brunches, catering and home delivery. A true neighborhood landmark of delicious food and wonderful atmosphere.
Let's start with the bread. Bought over-the-counter or enjoyed on the cutesy little terrasse, the breads at Coquelicot are truly remarkable. Incredibly fresh, perfectly moist yet crusty and oh-so flavourful, they are all baked on location by three expert bakers. The store offers a seasonal menu of breads, including the Pain au Coquelicot (made with whole grains and shaped like a flower), the Pain aux marrons (the French love their chestnuts!) and of course, the
incontournable
French baguette. The latter is by far one of the best I tasted in Paris, and ah the freshness! Right out of the oven and into your plate...such freshness simply cannot be beaten!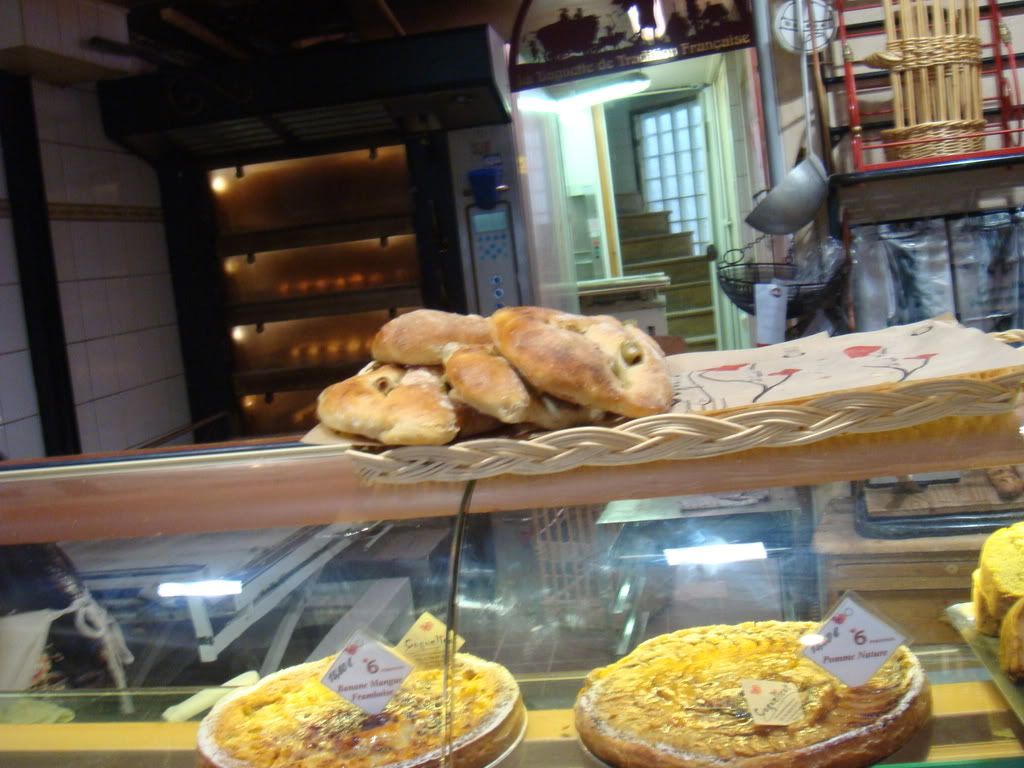 (Bread being baked right in front of your eyes!)
And now the pastries. Mmmm. Coquelicot doesn't do anything terribly fancy, but it offers a very wide and absolutely yummy range of baked goods and fresh fruit pies. You'll find all the French classics such as
éclairs
,
macarons
,
Paris-brest
,
crème brûlée
and
mille-feuilles
. I personally love anything involving baked crusts and chocolate, so little desserts such as the
tigré
(a round little soft sponge cake with strands of chocolate and a soft chocolate center) and the
confidence
(a fluffy macaron biscuit spread with chocolate ganache) particularly appeal to me. Also not to be missed are of course the croissants: plain (aka butter), chocolate or almond, they are all crispy sweet delights straight from the Heavens above!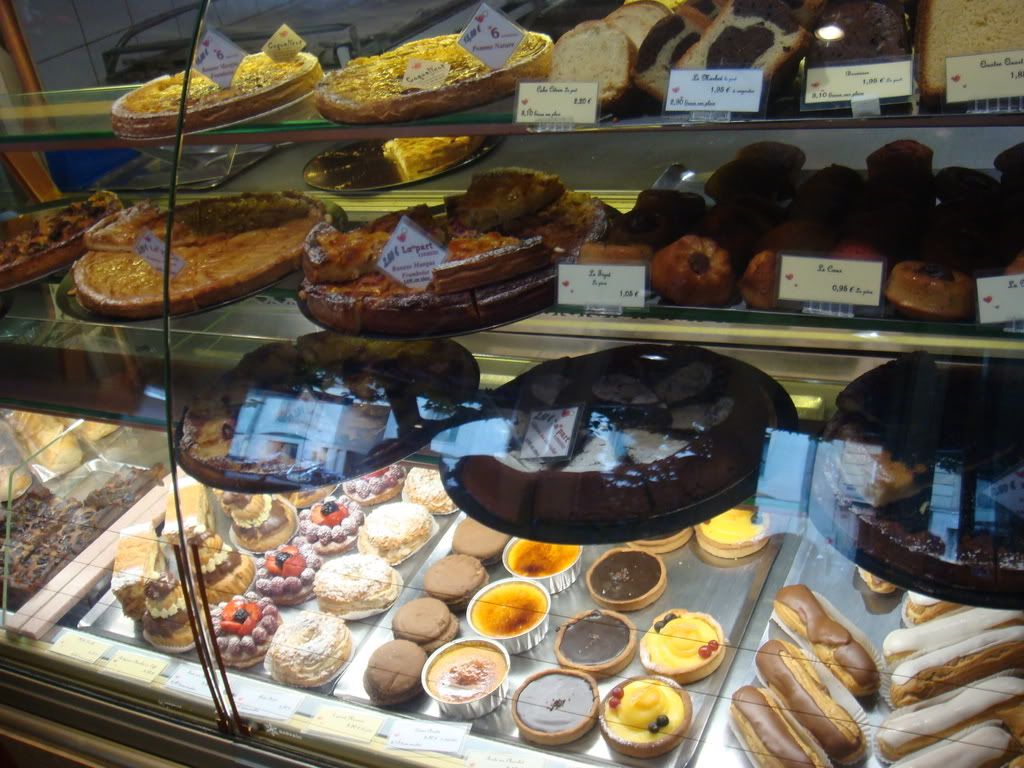 (The pastries counter. Hours and hours of perusing and tasting to be spent here!)
Their freshly baked fruit pies are also to die for. (Basically, all of their food is DROP DEAD DELICIOUS, if you haven't gotten the gist of it yet.) They have unusual but utterly toothsome fillings such as grapefruit-pear-blueberry, banana-chocolate-coconut, and even pineapples and prunes. Lovely, fresh, juicy, ridiculously tasty, never-can-get-enough-of. You can taste each and every ingredient and it's just a veritable explosion of flavours in your mouth. As some online might say: OM NOM NOM NOM.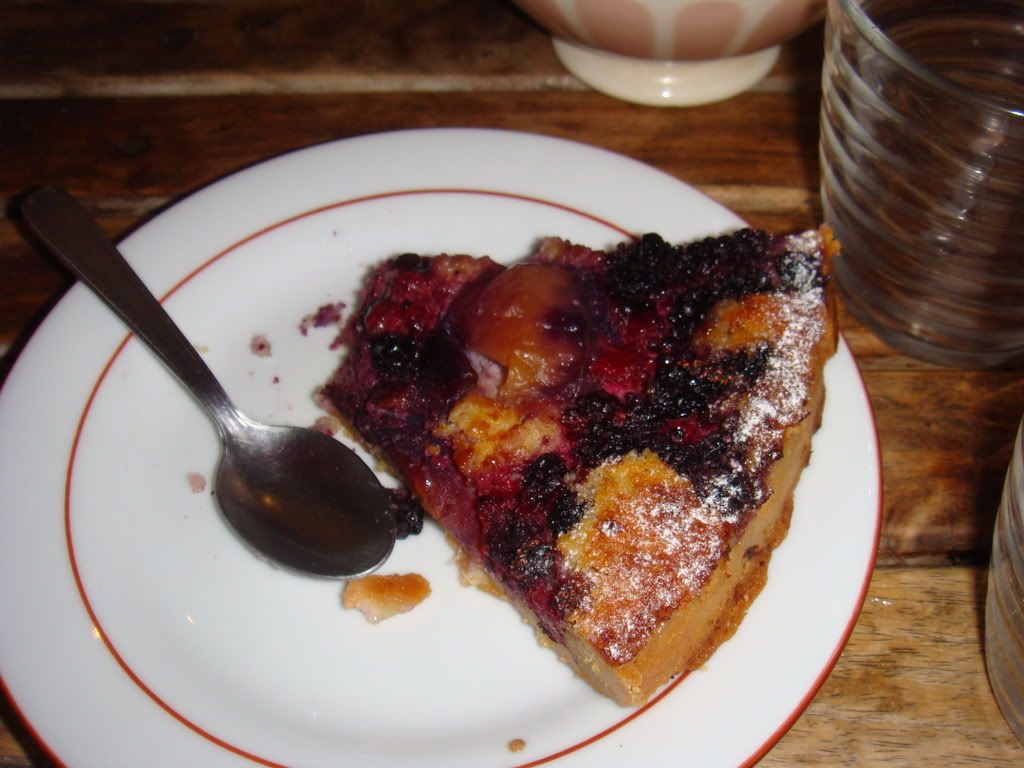 (The grapefruit-pear-blueberry pie. So good. SO SO GOOD.)
A brunch wouldn't be complete without some kind of substantial, non-bread-based food. My choice of predilection? Salads. The French, I've observed, take their salad business seriously. They bestow upon them such care and details, and I'm happy to report that the results are positively delicious. Oh, and quite large too. Coquelicot doesn't have an overly long list of salads available, but the quality more than makes up for the little quantity. Standouts were the Coquelicot Salad, made with fresh greens, tomatoes, olives, cat ears pasta and smoked salmon; as well as the Salade de Chèvre, which has lettuce, tomatoes,
lardons
, baked potato nibs and a beautiful slice of goat cheese sitting a top a thin piece of baguette. Oh the loveliness, how I already miss thee.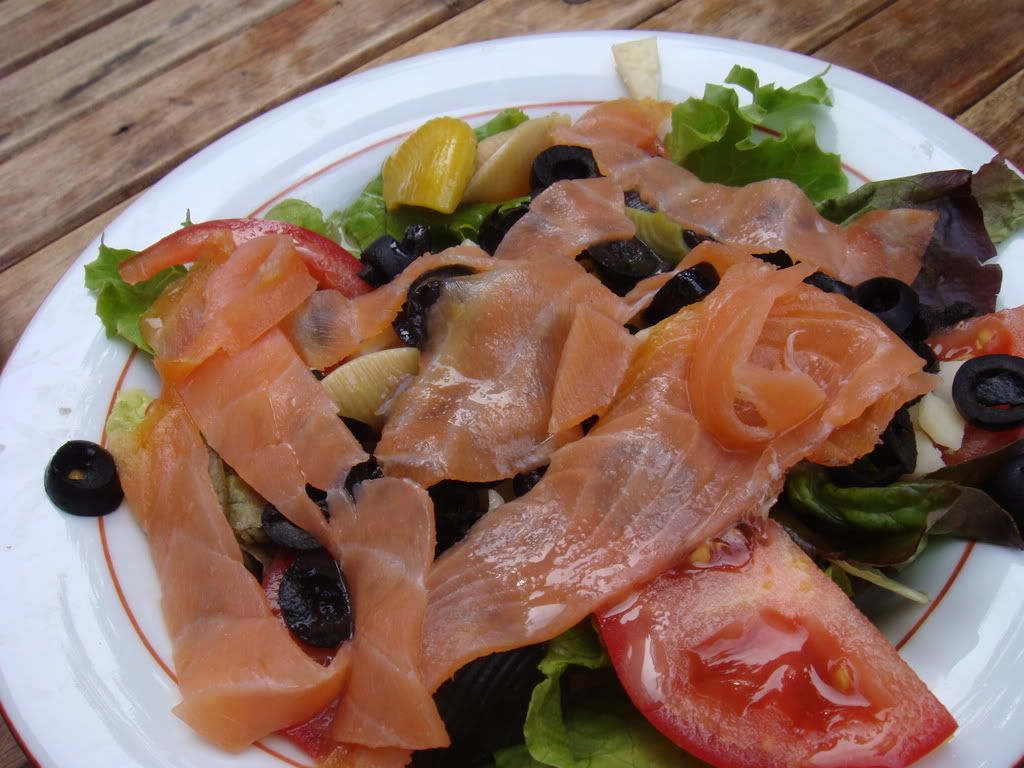 (Salade Coquelicot (top) and Salade au Chèvre (bottom): salads that everyone should try in their lifetimes.)
As an end note, I'd also like to mention that the coffee there is excellent, the croque-monsieurs are by far the BEST I had on the trip, and the service can be a little slow at times (but hey, it is Paris after all). Also, places on the terrasse are limited and highly in demand, so if you see a free spot just grab it!
Hope you all like this little review about a place that stole my heart while I was in Paris. Next up:
Au pied de la montagne, il y a un bon p'tit resto pas cher...