For my second review, I've chosen to talk about my favorite smoked meat/downtown joint, which also happens to have consistently good food and service. Ladies and gents, I present to you:
Reuben's Deli~Steaks~Desserts
[Not to be confused with Reuben's Restaurant Delicatessen, which is located a few streets East!]
Address:
1116 Ste-Catherine West
(between Peel & Stanley)
Phone: (514) 866-1029
Website:
http://www.reubensdeli.com
Style: smoked meat, delicatessen
Hours: Mon-Tue-Wed 6:30 AM to midnight
Th-Fri 6:30 AM to 1:30 AM
Saturday 8 AM to 1:30 AM
Sunday 8 AM to midnight
The first great thing one notices about Reuben's is its decor. Sleek black-and-red leather booths, dark wood pannelings and old-fashioned twirling fans give the place a jazzy 30's feel. Me likey. Me likey even more because it's smack in the middle of downtown, so I can go and have a great meal after a shopping spree (har har) or a reading session at the nearby Indigo or Chapter's.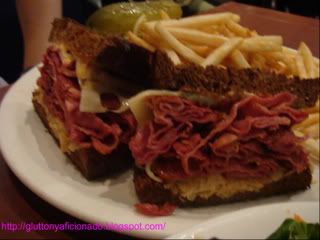 (Smoked meat: this ain't Schwartz's, but it's pretty good too!)
The menu is glammed up delicatessen, but you'd do well to stay clear of anything that sounds too fancy; You go to Reuben's for the smoked meat, not for filet mignon. Their sandwiches however, served cold or grilled with a towering heap of meat, are another story. You can't go wrong with their classic Reuben's sandwich (pictured above): accompagnied by fries, coleslaw and a pickle, it's a generous portion of sizzling smoked meat (1/2 lb, according to their menu) served with Swiss cheese, sauerkrat and a tangy sauce on an absolutely delicious pumpernicket bread. The plate is more than enough to feed the hungriest of young men, or, as it is usually my case, to be split between two people.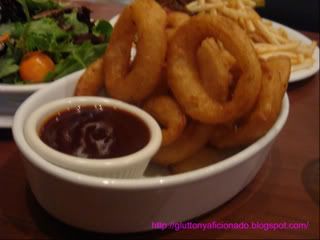 (Who doesn't love onion rings? That's the baby house salad you see in the upper left corner.)
Their burgers are just as hearty and meaty, my favorite being the Berghoff burger (hmmm, mushrooms!) topped with a special beer-based ketchup. Their pizzas are just a-okay, but the pepperoni one I once had so much oil that the dish dotted with little pools of oil. Not appealing. For the healthier crowd, there's always their so-called Epic Salads, which are truly epic in both width and height. I have never tried them, prefering to go with their "baby" house salad (red and iceberg lettuce, cherry tomatoes, cucumber, shredded carrots and bread crumbs served with one of the most delicious balsamic dressings ever), which actually makes a sufficient entrée for two people, once again.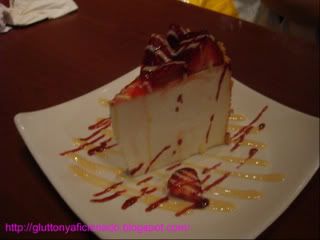 (The strawberry cheesecake: Heavy and decadent!)
As you've probably figured out, given the large portion at Reuben's, the best way to enjoy a meal there is to go in a group and order a variety of dishes to share. Even their appetizers and desserts work best like this. Apart from the baby house salad (which you can also get as a baby Ceasar), I also like to get their steak-cut onion rings. Impossibly thick and crispy and served with a Jack Daniels BBQ sauce, it's a gourmet way to enjoy greasy food. For dessert, I suggest that you stick with their selection of cheesecakes; you can never go wrong with strawberry. Served in an artfully and edibly decorated curved plate, this towering column of soft, creamy cheese is topped with a strawberries (frozen) and surrounded by a very thin layer of Graham cracker crust.
Bottom line
: The food is delicious, albeit in a greasy, heavy and carnivorous kind of way. Stick with the deli classics and you'll be rewarded. And hey, since you're downtown anyway, why not go enjoy a meal there in a beautiful decor instead of slummin' it at the closest food court?