My very first review, yay!
Fusion Montréal Crèmerie artisanale
Address:
1000, de la Gauchetière West (RC-28)
Phone: (514) 759-0608
Website:
http://www.fusionmontreal.ca
Style: gourmet ice cream parlour, frozen desserts eatery
Hours: Mon - Fri 7 AM to 7 PM
Saturday 11 AM to 6 PM
Sundays closed
Fusion is my new favorite hang-out spot. It's practical (just a stone's throw away from the South Shore bus terminal at Bonaventure), delish and air-conditioned. Air conditioning is crucial for me in summer---I cannot properly enjoy my eating experience if I'm sweating and wiping my face every two seconds!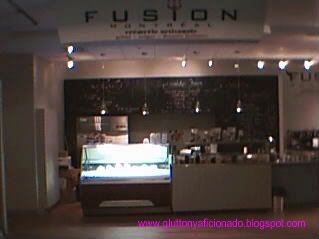 (Sorry for the crappy pictures---these were taken with my webcam before I got my camera!)
The menu here is gourmet dessert eatery. Emphasis is being put on local products, good old-fashioned homemade foods and overall yumminess. The star is by far the freshly-spun gelato, but the store also sells crêpes, gourmet cupcakes, chocolates by local artisan
Marie Pommette
and a slew of other fair-trade products (coffee, jams, etc.) Perfect for gift-baskets or a late-afternoon snack stop! Customers can also mix and match various fresh fruits, candies and toppings to a gelato base in order to create a one-of-a-kind, personalized "fusion" frozen treat (hence the name of the store).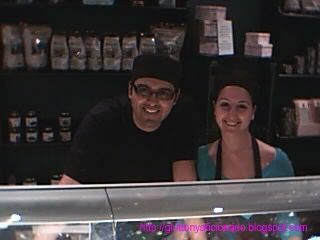 Owners Hazem and Mona (picture above) are super-nice and always willing to let give you a sample, whether it's taste of their latest gelato infusion (like baked apple pie, mmmm) or a shot of their old-fashioned hot chocolate. In fact, they're so nice that they even let me: a) write my
English class watering hole review
on them, b) interview and take photos of them, and c) plaster them all over Internet. Really, customer service doesn't get much better than this.

(Hmm...so many flavours, so little time!)
Prices are a little steeper than at your average shopping-mall ice-cream stand, but it's worth it for the extra flavour and love put into the gelato. A one-scoop construction nicknamed "
J'aime
" ("I love") sells for 4.25$ taxes included, whereas the two-scoop "
J'adore
" ("I adore") is 6.00$ and the three-scoop "
J'en ai de besoin
" ("I need it")is 7.74$. A real treat for the tired soul is a mango-truffle-daquiri "
J'ai en de besoin
" in a waffle bowl drizzled with hot chocolate. Mmmmmm. And since gelato, especially homemade ones like Fusion's, contains skimmed milk and less air than regular ice-cream, it's healthier (not to mention yummier) too! A win-win situation for waistlines AND taste buds everywhere.
Another favorite frozen treat of mine is their absolutely sensational milkshakes. Made with two scoops of gelato and milk, it's yumminess on the go for 6.00$. Pistachio, coffee and neige (white chocolate, coconut and truffle) are all amazing.
In fact, they're so amazing that I'll think I'll go grab one tomorrow, hmm....
In a nutshell:
If you live in or around Montreal, be sure to check out Fusion! Get a scoop of gelato to take outdoors on a hot summer day, or go enjoy their old-fashioned hot chocolate after a turn at the Atrium indoors skating rink. It'll be a ~gelatastic~ experience that you won't regret!